From The Times
September 1, 2007
Welcome to the new US embassy
It's bigger than Saddam's palace and, with a cinema, gym and pool, is the safest and smartest place to live in Iraq...
Martin Fletcher in Baghdad
---
Baghdad is a city of ruins - of burnt-out homes, of shops wrecked by suicide bombs, of the crumbling shells of Saddam-era palaces and ministries destroyed by smart bombs in the US invasion of 2003.
There is one notable exception. It is probably the only big new building proje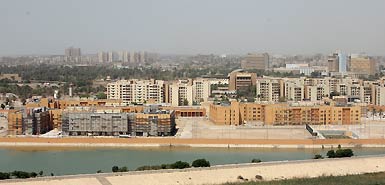 ct in the capital in the past four years. It is the new US Embassy on the west bank of the Tigris which the contractors will transfer to the US Government officially today.
A towering wall renders the huge new embassy almost invisible from ground level. For security reasons the State Department has refused all requests for media tours – promising instead to release pictures of the interior at some later date. The only way to view it is from the roof of the Babylon hotel, across the river.
What you can see through the haze of heat and pollution is a complex of two dozen smart new dun and grey blocks set in 104 acres (42 hectares) of grounds ringed by that impregnable wall. It is a fortress within the fortress that is the green zone. It is designed to repel any physical attack and. when it opens for business in a few weeks, it will be protected by a detachment of Marines with their own barracks. It is not, however, invulnerable to criticism.
This is the largest US Embassy built – roughly the size of Vatican City – and at $600 million (£300 million) the most expensive. At a time when millions of Baghdadis outside the green zone receive only a couple of hours of water and electricity daily, Iraqis observe that this project has been completed on time, on budget, and is entirely self-sufficient with its own fresh water supply, electricity plant, sewage treatment facility, maintenance shops and warehouses.
"People are very angry," said one young Iraqi. "It's for the Americans, not for the Iraqis."
There are two office blocks that will house 1,000 staff, six apartment blocks containing 619 one-bedroom units, spacious residences for the Ambassador and his deputy, a school, shopping centre and food court; a swimming pool, tennis and basketball courts; a gymnasium, cinema, beauty salon and social club. This is known because the architects – Berger Devine Yaeger, of Kansas City – posted drawings on its website briefly until the State Department ordered their removal.
The embassy was built with imported labour. This year a congressional committee heard charges that First Kuwaiti General Trading & Contracting told a planeload of Filipino construction workers that they were flying to Dubai to build hotels and did not admit that they were heading for Baghdad until they had taken off, forcing them, in effect, to work there.
Critics also portray the new compound as a symbol of American isolation and occupation, and a sign of how little confidence the US has in Iraq's future. Jane Loeffler, an expert on the architecture of embassies, writes in the latest edition of Foreign Policy magazine: "Encircled by blast walls and cut off from the rest of Baghdad, it stands out like the crusader castles that once dominated the Middle East."
Embassies were traditionally designed to promote interaction with their host communities, she says, but not this one. "Although US diplomats will technically be 'in Iraq' they may as well be in Washington.
"Although the US Government regularly proclaims confidence in Iraq's democratic future, the US has designed an embassy that conveys no confidence in Iraqis and little hope for their future. Instead, the US has built a fortress capable of sustaining a massive, long-term presence in the face of continued violence."
Edward Peck, a former US Ambassador to Iraq, says in the same magazine: "The embassy is going to have a thousand people hunkered behind sand-bags. I don't know how you conduct diplomacy in that way."
US diplomats roll their eyes in the face of such verbal assaults. "The size and scale of the embassy reflects very much our expectation of a strong long-term relationship with Iraq," one senior official insisted. "Of course it's a fortress. What embassy isn't nowadays? Is it a tragedy? Of course it is. It's a sad statement of the reality of today's world."
The relentless criticism clearly grates. "We call it the 'nec'," he said. "It stands for the new embassy compound. And it's a pain in the neck."