Unleashing the power of human capital

By Don Tapscott and Anthony D. Williams
Electronics retailer Best Buy continues to crush its competition. Already North America's largest consumer electronics seller, the profitable company plans to open more than 100 new stores this year, while ailing competitors such as Circuit City are shutting locations. A primary reason for Best Buy's success is CEO Brad Anderson's campaign to "unleash the power of human capital" within the company by relying on its store managers and frontline employees to know best how to satisfy customers.

Until recently, the company's selling strategies relied heavily on market researchers at head office pondering the entrails of sales and demographic data. Today the company believes store managers and associates know customer habits, wants and frustrations more intimately than market research statistics could ever reveal.

Best Buy management now looks for innovation at the store level, asking general managers to fine-tune the company's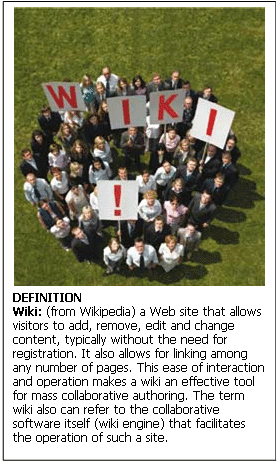 broad-brush thinking for the local market. To stimulate their thinking, store managers go online to brainstorm and swap experiences with one another. In the retail realm, this is radical. But management credits the new strategy for enabling Best Buy to beat its competitors in the intensely competitive consumer electronics marketplace.

Just as new information and communication technologies are transforming media, culture and the economy, they are also reshaping the way many companies and employees function. New social computing tools such as wikis, blogs and digital brainstorms put unprecedented communications power in the hands of employees. The result is a revolution in what leading-edge companies expect when they ask employees to collaborate.

As a result, the nature of work is changing. It is increasingly team-based and collaborative, cutting across the organizational silos and bureaucratic structures of the 20th century corporation. Effective employees have more social skills, are smarter at using technology and are more mobile. Many employees are given more autonomy to decide how and where they want to work. A growing number of firms are decentralizing their decision-making function, communicating in a peer-to-peer fashion and embracing new social computing technologies that empower employees to communicate easily and openly with people inside and outside the firm.

Collaboration 2.0
Only five years ago, many business executives heaved a sigh of relief when the dot-coms crashed, thinking the threat from the Internet had evaporated. The dot-com boom was predicated on a nascent technology that had, in 1995, relatively limited economic reach. And as with most big innovations throughout history, there was a speculative bubble and crash. But the next stage—the one we're entering now—is when the technology comes of age and new business models come to fruition.
There are many names for this: Web 2.0, the living Web, the Hypernet, the active Web, the read/write Web. Call it what you like—this ain't your big sister's Internet. The old Web was about sites, clicks and "eyeballs." In some ways it resembled the old broadcast media more than today's new collaborative Web. As users and computing power multiply and easy-to-use tools proliferate, the Internet is evolving into a global, living networked computer that everyone can program.

Software such as wikis and blogs are proving popular in the corporate world because they help employees work with more people, in more regions of the world, with less hassle and more enjoyment than earlier generations of workplace technology. The result is faster innovation, lower cost structures, greater agility, improved responsiveness to customers, and more authenticity and respect in the marketplace.

Inside-out thinking
Wikipedia is an extraordinary success story. The collaboratively created encyclopedia is owned by no one and authored by tens of thousands of people. With less than 10 full-time employees, it is 13 times bigger than Encyclopedia Britannica and just as accurate. It runs on a wiki — software that enables users to edit the content of its pages. Despite the risks inherent in an open encyclopedia, Wikipedia continues to grow rapidly in scope, quality and traffic.

Now companies use internal wikis to stimulate thinking and capture knowledge. At Xerox, the company's chief technology officer Sophie VanDebroek uses a wiki to collaboratively define the company's technology strategy. Normally, high-level strategy documents are created in a hierarchical fashion where the boss controls the vision and content. VanDebroek decided to turn everything inside out by opening the process up to all researchers in the R&D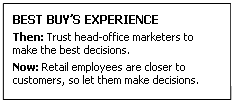 group, and expects more robust technology roadmaps and a much stronger competitive strategy section as a result. "We'll get more content and knowledge in all of our areas of expertise," she said, "including everything from material science to the latest document services and solutions."

Ross Mayfield is the CEO and founder of SocialText, one of a growing number of start-ups that supply social computing technologies such as wikis to corporations. "For a long time," Mayfield said, "personal productivity tools and applications — the kind that Microsoft makes — have been centered on a single user who generates documents. You also have highly structured enterprise systems designed and implemented from the top-down — in many ways as an instrument of control — with rigid workflow, business rules and ontologies that users must fit themselves into. The problem is that users don't like using those kinds of tools and end up trying to circumvent them. That's why 90 per cent of collaboration exists in e-mails." In contrast to complex group collaboration tools, wikis conform naturally to the way people think and work and can evolve to the needs of the organization. This flexibility arises from the fact that at their most basic, wikis are completely unstructured. "The structure," Mayfield said, "is created by demanding active involvement from users. Wikis hand control over to users to create their own ways of organizing knowledge [and] workplace processes."

What the employees think
At Dresdner Kleinwort Wasserstein, a Europe-based investment bank, employees started using wikis in the IT department as an informal pilot to document new software. Soon afterward, wikis began to migrate out of the IT department and into the broader workplace environment, where teams picked up on them as a way to get collaborative projects up and running quickly.
When J.P. Rangaswami, until recently the Dresdner CIO, learned of the process, he was intrigued by the technology's versatility. The company went ahead with additional pilots and after just six months of usage, the traffic on the internal wiki exceeded that on the company's intranet. Lead users have decreased e-mail usage by 75 per cent and cut the company's meeting times in half. "We recognized that these tools would allow us to collaborate more effectively than existing technologies."

A trailblazer in this realm is IBM. In September 2006, the company invited employees from more than 160 countries — along with their clients, business partners and even family members — to join in a massive, wide-open brainstorming session it called the InnovationJam. Over the course of two 72-hour sessions, IBM engaged more than 100,000 participants in a series of moderated online discussions. Their combined insights surfaced breakthrough innovations that IBMers expect will transform industries, improve human health and help protect the environment over the course of the coming decades. CEO Sam Palmisano believes so strongly in the concept that he has committed up to US$100 million to develop the ideas with the most social and economic potential.

Internet search giant Google prizes its employees' creativity so highly that the company's software engineers are directed to spend 20 per cent of their time pursuing personal projects unrelated to their jobs. This boosts employee morale and creativity. It also surfaces unplanned innovations that evolve into successful business ventures. Google CEO Eric Schmidt says he hasn't had a product idea in years. "Virtually all of the product ideas in Google come from the 20 per cent of the time employees work on their own projects."

If an army marching in lockstep to tightly arranged military music is a metaphor for yesterday's workplace, the workplace of the future will be more like a jazz ensemble — where musicians improvise creatively around an agreed key, melody and tempo. Employees are developing their own self-organized interconnections and forming cross-functional teams capable of interacting as a global, real-time workforce.

Such decentralization of the workflow and the actual workplace will be the defining trend in years ahead. Indeed, if Linux, Wikipedia and other collaborative projects are any indication, it will be easier and less expensive for workers to self-organize productively than to squeeze them into a corporate hierarchy.

While still in their infancy, these trends will deeply change our experience of work and especially the experiences of our children. Though these are long-term changes, self-organization in the workplace can give competitive advantage to firms that wield it effectively today.

Is there a danger that too much openness and self-organization in the workplace could lead to disorganization, confusion and lack of focus and direction? "If you have worked in a traditional company, a place like Google doesn't feel right, it doesn't feel like you have the kind of control over the way in which decisions are made that you might have had in a more traditional environment," said Google's Schmidt. And yet, he is convinced self-organization is better. "You talk about the strategy, you get people excited, you tell people what the company's priorities are and somehow it works out."

Clear goals, structure, discipline and leadership in the organization will remain as important as ever and perhaps more so as self-organization and peer production emerge as organizing principles for the workplace. The difference today is that these qualities can emerge organically as employees seize the new tools to collaborate across departmental and organizational boundaries.

HOW TO IMPLEMENT COLLABORATIVE TECHNOLOGIES
Six tips that will make wikis work for you
Tools such as wikis and blogs have tremendous potential to increase efficiency and lower collaboration costs. However, the nature of collaboration makes it a challenge to implement within the enterprise. It is a balancing act between top-down direction and control, and the need for bottom-up initiative and adoption. Here are some strategies and methods for dealing with the challenges.
Use pilot projects to prove benefits:

Like any new technology, collaborative tools should be piloted in order to prove their utility. Early wins generated by these pilots will make it easier to gain credibility and buy-in from the rest of the organization. They also allow project leaders to create and optimize appropriate incentive systems, control/governance,

quality

assurance and trust mechanisms before a wider rollout. Fact-based

wikis

, such as developing a manual, are easier to get up and running than those that are opinion-based.

Choose a receptive area for the pilot:

Selecting where in the company to conduct the pilot depends on the specific technology and company culture. The most successful pilots involve young people who are already using consumer versions of collaborative technologies. One company chose to focus on call centres where many of the employees were young and open to adopting new technologies and approaches. Another firm chose a small group of young employees called the "Young Professionals Network" to experiment with building a social network.

Leadership and vision are necessary:

As with any new technology, strong leadership is

key

. This is especially critical as many collaborative tools need to acquire a critical mass of users and content before they become valuable. However, too much drive and direction can be counterproductive. The project needs a leader who is passionate but not too controlling.

Use loose control systems:

Collaborative technologies also require a mind shift for managers who are used to controlling their employees' activities. Many managers fear the tools will be used to waste time on idle interactions instead of adding true value. The natural response is to clamp down, set strict rules and monitor content. This will be counterproductive. Instead, managers should set clear performance goals while encouraging the use of new tools that will help employees meet the goals.

Use innovative techniques to achieve critical mass:

Gaining user buy-in is critical for collaborative technologies to reach critical mass. To increase the chance of this, identify a key user group to jump-start the collaboration. One IT leader said he looked for "people who are ready to take risks, ready to take the lead, do something right, experiment and burn some

oil." A more hands-on approach is to directly implement or "buy" the critical mass by, for example, pre-populating a

wiki

with useful content.

Use light incentives:

The open nature of collaborative tools does not lend itself to overly formal incentive systems. The most obvious incentive is designing a system and tools that help employees be more efficient. This starts with establishing team-based goals that require effective collaboration, which naturally leads to the need for collaborative tools. For collaborative efforts that engender less immediate payoffs, other intrinsic incentives include personal rewards such as creative pleasure, peer recognition of one's expertise, visibility of work to upper management and the potential of unexpected benefits of one's contributions.
---
Don Tapscott is chief executive of New Paradigm, a technology and business think tank, and the author of 11 books including Paradigm Shift, The Digital Economy and Growing Up Digital. His most recent book is the international bestseller Wikinomics: How the Power of Mass Collaboration Changes Everything.
Anthony D. Williams is an author, researcher and former lecturer at the London School of Economics. He is vice-president and executive editor at New Paradigm and co-author of Wikinomics.